Do you owe back taxes to the IRS? Are those delinquent taxes causing major financial difficulties for your family or your business? If you're tired of the stress and frustration IRS back taxes leave in their wake, it's time to call in the experts. In San Antonio and the surrounding area, you can't beat the exceptional tax help offered by the pros at Pro Tax Resolution We have what it takes to get you out of even the stickiest financial situation, helping you settle your debt and avoid further penalties such as property seizure and wage garnishment. Call or email us today to set up your appointment for tax assistance, and to get a free cost estimate!
Don't Hesitate—Contact Us Today for Tax Help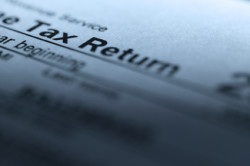 The most important thing to remember about back taxes is that the longer you wait to resolve them, the worse your debt will become. The IRS imposes steep fines and interest on your unpaid taxes, and will eventually resort to garnishing your wages or seizing your assets to cover the debt. The best way to ensure that your financial situation doesn't become exponentially more overwhelming is to call Pro Tax Resolution right away. We can help you take proactive steps to improve your finances, including:
Filing all late tax returns
Negotiating tax settlements such as an offer in compromise
Petitioning for penalty abatement
Lifting government actions against you or your business
Creating installment agreements to help you pay what you owe
Helping you avoid back tax problems in the future
Our goal is always to develop a personalized plan for dealing with your back tax returns. We understand that every client has different needs and special circumstances that led them to owe back taxes, and we'll work to assist you in resolving your unpaid taxes in the most effective way. With our help, you can find a solution to eliminate your delinquent taxes. We may even be able to help you settle your back taxes for less than you actually owe. When we're finished, you can feel confident in being IRS compliant and in moving forward toward a brighter financial future.
Emergency Back Taxes Help Available
Pro Tax Resolution is pleased to provide emergency tax assistance, if your back taxes can't wait. Are you approaching a deadline that, if missed, will lead to increased penalties on your account? Have you received notice of impending government seizure of your home or bank accounts? We offer back taxes help that's as efficient as it is effective. Call us in an emergency and we'll start working on your case immediately. Whether your problems lie with federal or state IRS back taxes, we've got you covered.
We're proud to have more than 40 years of combined experience providing help with back taxes—an unparalleled level of experience in the San Antonio area. We're fully licensed and insured for your protection and peace of mind. We're also affiliated with the American Society of Tax Problem Solvers and the Better Business Bureau. If you need to file IRS back taxes, we'll do our best to come up with a plan that works for your budget. Call now, and let Pro Tax Resolution lift the burden of back tax stress from your shoulders!